Multifunctional Hall B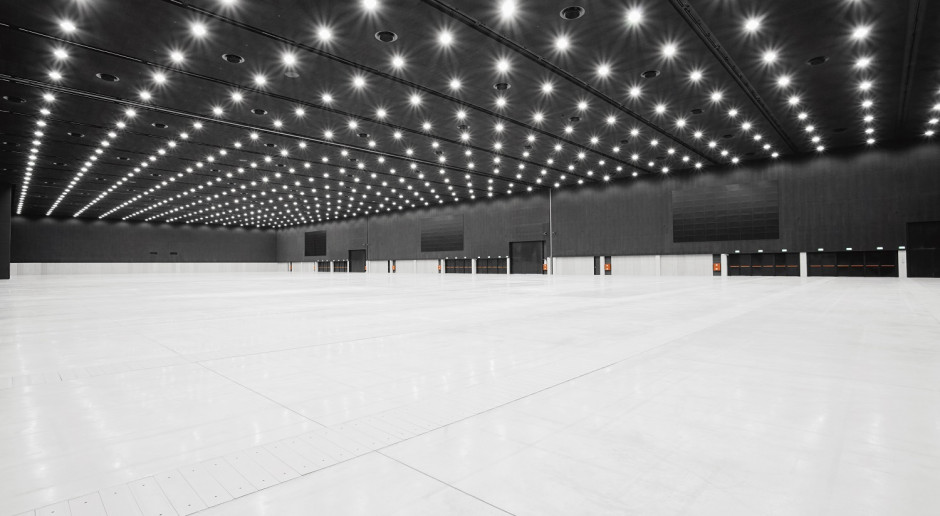 Characteristic
Multifunctional Hall B can accomodate:
 2508- 2552 pax in theatre arrangement
 1188- 1200 pax in school arrangement
 164 - 178 pax in "U" arrangement
Multifunctional Hall B is one of three on level I of the International Congress Centre. The hall is unique and spacious, and can be arranged and adapted for any event.
The rectangular hall is 45 x 60 m, with a surface area of 2747 m², and a height of 12.5 m. It is equipped with many functional amenities such as direct car park access, allowing equipment to be easily loaded into and out of the hall, as well as a system of wiring ducts, water supply connections, and power connections hidden in the floor. The hall has been fitted with an independent exit, an evacuation route, an independent foyer, a storage room, and bathrooms. Among attributes that distinguish it from other large-scale event spaces are a floor with a 5,000 kg/m² load capacity, a ceiling that can support up to 500 kg of suspended elements in several places, and a 495" LED screen.
Multifunctional hall B can be formed by relocating the walls of Multifunctional Hall ABC, which are fitted with car park access points. The total area of the hall is over 8,000 m², which provides for many arrangement options.
Equipped with modern furnishings, the hall was built for large trade shows, fairs, exhibitions, and music and sporting events. It is perfect for congresses, lectures, or speeches.
We offer additional furnishings such as AV equipment, platforms, stages, and trade fair constructions. The convenience of our clients is a priority for us, which is why we offer a wide range of additional services such as shipping, additional constructions, event managers, AV technicians, and catering. Our comprehensive approach allows us to meet the needs of even the most demanding projects.
If you are interested in renting this room, please contact our sales department.