CONTACT
International Congress Centre
Plac Sławika i Antalla 1
40-163 Katowice
For enquiries regarding rental, please send an email to:
kontakt@mckkatowice.pl
+48 660 473 668
+48 668 193 257
+48 780 105 953
+48 517 022 190
INFORMATION ON EVENTS
All information on events taking place at the International Conference Centre is provided by event organisers.
Contact information for organisers can be found under the EVENTS tab. 
The International Congress Centre is located in the heart of Katowice, just next to the legendary Spodek Sport and Show Arena. Together with the Silesian Museum and the seat of the National Polish Radio Symphony Orchestra, these buildings comprise the Culture Zone, a new urban space for tourists and inhabitants of Katowice and the surrounding area..
By car
 The location of the ICC near highways A4 and A1 makes it easy to reach from many places within Poland and Europe. Numerous car parks in the vicinity allow convenient access to the facility.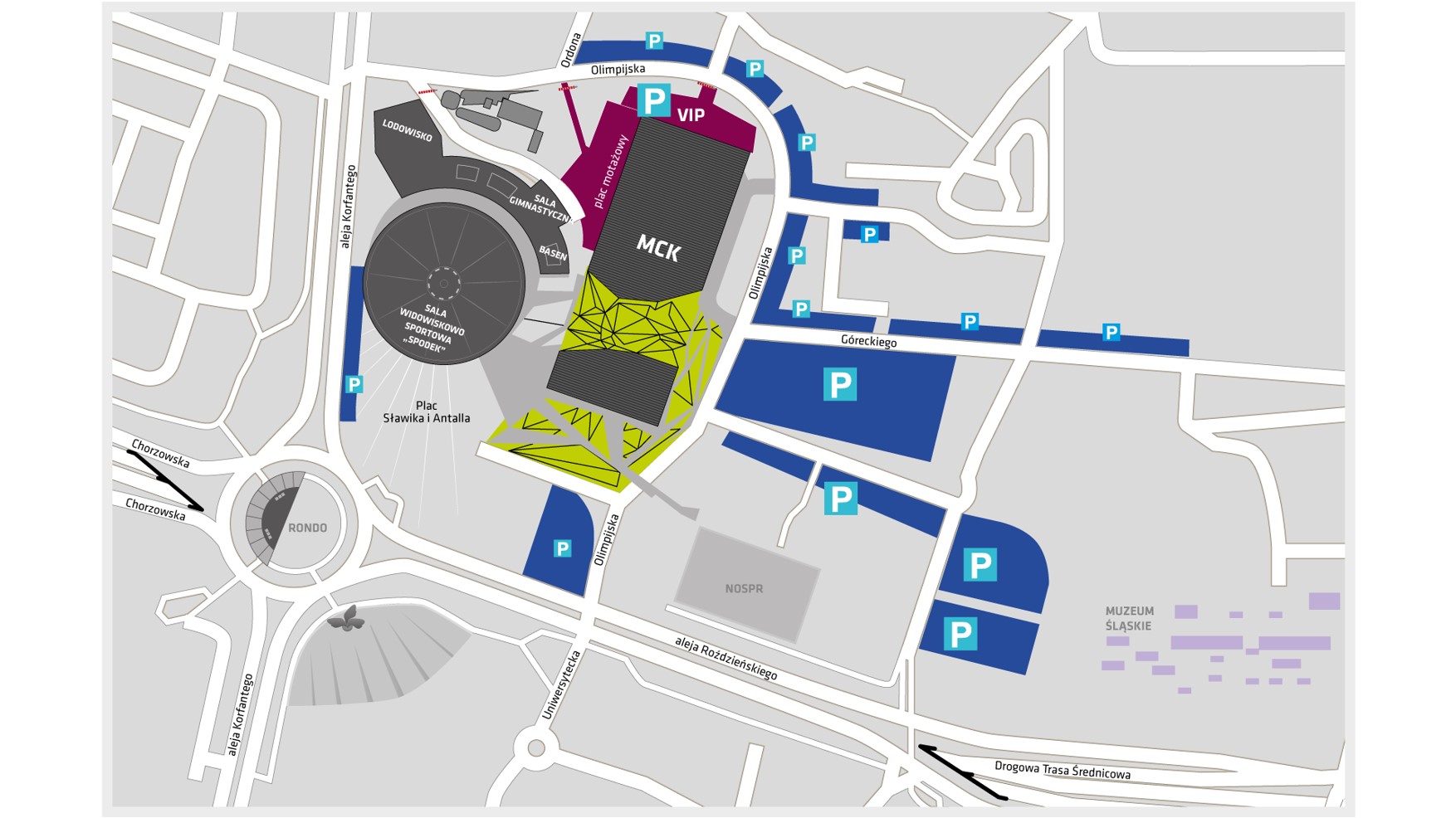 By train
 The International Congress Centre can be reached from the PKP train station:
 In 15 minutes by foot (2.5 km)
By taxi from Plac Oddziałów Młodzieży Powstańczej or ul. Młyńska.
By tram from the Katowice Dworzec PKP stop. Take lines T2, T11, T13, T23, or T43 to the Katowice Rondo stop (8 min.)
By tram and bus
 The bus and tram stops closest to the International Congress Centre are Katowice Rondo, Katowice Spodek, and Katowice Uniwersytecka
By plane
 The International Congress Centre is 30 km from the Katowice airport. Travel from the airport to the ICC by car takes around half an hour. Taxis from the airport cost around PLN 100, and buses around PLN 30). When taking a bus from the Katowice airport, you can get off at stops Katowice Sokolska (1 km from the ICC), or Katowice Hotel Novotel (850 m from the ICC).
 The proximity of international airports in Kraków Balice (70 km, around 50 min.) and Ostrava (130 km, around 1.2h) make the ICC easy to reach from many destinations in Poland, Europe, and beyond.